| | |
| --- | --- |
| Posted on December 14, 2015 at 7:05 PM | comments (0) |
BART's destination signs are growing old - they were last replaced in 2000. And so far, if you want to visit the new signs, there is only one station and one sign to visit - at Civic Center. But eventually, this brighter, larger sign will pop up around the BART System.
Old sign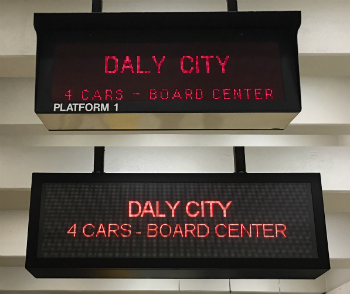 New Sign, with brighter colors & a larger display
BART's new signs are 38% higher-resolution compared to the old signs, with a higher contrast and an orange/red text that's easier to read. The new signs are larger & easier on the eyes compared to the old signs.
 The first of the new signs will be installed at the four Market Street locations - Civic Center, Powell, Montgomery, and Embarcadero, as well as one other station not yet disclosed, in the near future. 
If you're like us, you're most likely annoyed when you look up from your phone on the platform to check the arrival time of your train, and you see a BART elevator update scrolling instead. So you wait for another 30 seconds until the arrival times finally pop up on the screen.
Thankfully, these new signs flash train arrival times much more - every other message, in fact. This has also been programmed into the old signs, but their long-lived life is coming to an end soon.
The new signs will be used on BART's future extensions as well, including the Warm Springs & Silicon Valley Projects, as well as eBART to Antioch.
For more information, go to www.bart.gov..