We have managed to get our hands on a "BART Fares & Schedules" brochure from eight years ago, effective January 1st, 2008. We thought it would be quite interesting to check out how much the BART system has changed over the last eight years. 
BART's brochure syle has changed quite a bit in eight years. (January 1st, 2008 - February 8th, 2016, the most recent brochure from BART.
The most immediate, glaring change everyone would notice is the BART system map:
The old map (right) and the new map (left), side by side.
These two maps, when put next to eachother, have hardly anything in common - the much more topographical look of the older map, which displays all parks, highways and the lines in general in great detail, showing you every curve and bend in the BART System.
A bit of symmetry and simplicity is lost when looking at the old BART map, as it's harder to focus on each individual line with so much "stuff" being thrown at the viewer - is it really necessary to show every bend between Dublin/Pleasanton and Castro Valley? 
The old map can also be confusing when stations are bunched together, such as in the Downtown Oakland area. But on the bright side, the older map shows you San Jose and how to get to San Jose by showing you ACE and CalTrain (although the newer map shows you all this when in trains).
The new, most recently updated BART map from 2011 removes any clutter from the older map and simply shows you the five (six, if you want to include the Oakland Airport Connector, which we're not) lines. In trains, the new map also displays other transit systems in the Bay Area.
The new map removes all parks and highways from the older map and shows you a hyper-simplified diagram of the BART network. This means the map looks cleaner and has more symmetry to it. No longer is there any clutter in the Downtown Oakland area, or any unwanted curves in the lines.
The new map favors simplicity rather than accuracy, which means there are points where the map is misleading. The new map tells you that Balboa Park, Glen park and 24th Street/Mission Stations are all south of Hunter's Point, which none on them are.
The Yellow and Red lines do not travel that far down the Peninsula, and San Francisco International Airport is not that far south and is much closer to the Bay. None of these affect the typical viewer though, and only Bay Area natives will really notice these nitpicks.
Let's move on to how the system has changed in eight years, simply looking off the two maps: The difference that catches our eyes first is the Blue Line having gone all the way to Millbrae, instead of stopping at present-day Daly City. 
The Blue Line only ran to Millbrae on weeknights and weekends, though (between 7:19 and 11:49  on weeknights and early morning and late evening on weekends), and BART figured there wasn't much of a point in keeping the Blue Line to Millbrae.
Today, the Blue Line terminates at Daly City, but when the SFO BART extension opened in 2003, the Blue Line went to SFO, and the Yellow Line went to Millbrae, skipping the Airport altogether.
A whole different line, the Purple Line, ran shuttle trains every 20 minutes from the Airport to Millbrae. It was discontinued in January 2008 due to low ridership, although BART says it was to "increase effeciency." Here's what it looked like: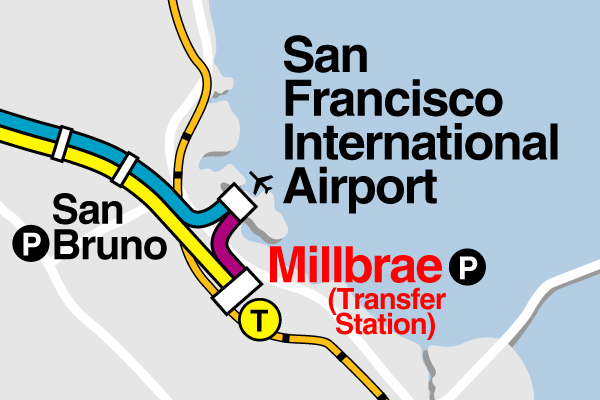 What's also noteworthy is that the Yellow Line, in the 2008 BART map, stopped at SFO, rather than continuing to Millbrae. 
Another noticeable change is how you get to Oakland Airport - on the old map, a shuttle service was in place, but on the new map, it looks as if a whole new line was started.
That's because previously, passengers wishing to get to OAK from BART needed to wait for an every-20-minute AirBART bus service between Coliseum Station and both airport terminals, and I don't think anyone wants to wait for anything, outside, in East Oakland.
BART opened the Oakland Airport Connector on November 22, 2014, eliminating the AirBART system (which wasn't even run by BART in the first place). 
Another change you'll notice is the newest BART station in the system, West Dublin/Pleasanton, which opened in February 2011, meaning the new(er) station does not exist on the older BART map.
The only other slight difference, just by looking at the two maps, is the transfer station for northbound trains in Downtown Oakland.
Previously, the northbound transfer point was 12th Street/Oakland City Center, shown on the old map. BART moved this transfer point a few blocks up, to 19th Street/Oakland Station, several years ago. 
Let's move on to fares which, as you could most likely guess, have risen quite a lot in eight years. But because BART uses an incredibly convoluted way of charging its passengers based off of where you're going and where you came from, it's impossible to give a close estimate as to how much fares have risen.
So instead, we'll provide you with some examples. Back in 2008, the absolute bare-minimun fare you'd pay in the entire BART system was $1.50. This was for going from, let's say, Fruitvale to Lake Merritt, or Rockridge to MacArthur, one stop over.
Now, the minimun fare you are going to pay on BART has risen to $1.95, an astounding 45-cent difference. 
The maximun amount of money you could spend on BART, in 2008, was if you traveled from Pittsburg/Bay Point to SFO Airport, which costed $8.00. Today, the maximun fare you can pay on BART is $15.70, between Oakland Airport and San Francisco Airport.
Now let's look at a ten-station journey, such as from Pittsburg/Bay Point to 19th St/Oakland. in 2008, this journey would cost you $4.05. In 2016, the same journey costs you $4.75, a 70-cent increase.
Now let's look at a journey which requires a transfer: from Pittsburg/Bay Point to Fremont. In 2008, this journey would cost you $6.00. Today, this same journey costs you $7.05.
The most insane fare increase from 2008 to now has to be getting from any station to San Francisco International Airport, where BART has raised its fares astronomically. 
Today, one stop over, from San Bruno to the Airport, costs you a whopping $7.65. Eight years ago, it cost $4.05. Between Pittsburg/Bay Point and SFO, the fare today is $12.05. In 2008, the fare was $8.00. Appearantly BART figures, "Hey, what better way to rip off tourists and everybody who uses an airport."
Going into great detail about what's changed to BART's schedule in eight years would take hours to write and read, so the only things that we will focus are BART's express trains and longer trains during rush hours.
On September 14, 2015, BART introduced express trains to the system, with six trains during the morning commute skipping Rockridge, Lafayette and Orinda stations while traveling eastbound.
On February 8, 2016, BART slightly modified this express train system to pass through Walnut Creek station as well, running nonstop from MacArthur to Pleasant Hill, before turning back.
BART also approved a new schedule and budget system last year, which enabled 30 more cars to be in service during both rush hours. This meant there could be more 10-car trains on certain lines, and overcrowding would (supposedly) ease slightly. 
Of course, there have been countless tweaks to BART's schedule in eight years, none of which are really noteworthy however. So we won't waste any more time with this subject for the sake of not nitpicking everything BART has done in eight years.
And finally, we will look at one final topic: future expansions of the BART system. 2008 was when the economic downturn of the U.S. economy officially began, which hampered transit systems to improve their services for several years. In fact, many agencies were forced to slash service as a result of the crash.
Between 2003 and 2014, there were no extensions of the system - in 2003, the extension to SFO opened, and in 2014, the Oakland Airport Connector began service.
As mentioned, BART did build West Dublin/Pleasanton station in 2011, but apart from that, no new development took place on the network for quite a while. 
Looking ahead, we have the Warm Springs extension, which will take BART 5.4 miles to Warm Springs/South Fremont. This project has been delayed a few times; it was set to open two years ago, then Summer of last year, then the end of last year, and now Summer of this year. 
After that, we're not quite sure what will come first - eBART to Antioch, or BART to Berryessa/San Jose. Both are projected to open sometime in either 2017 or 2018.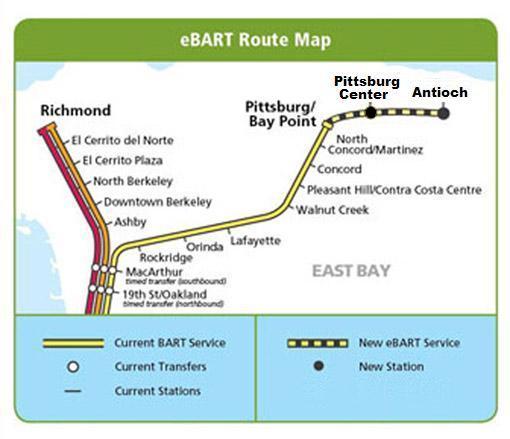 After that, we don't know. It would be nice to see BART to Livermore, but there is no current funding for that plan. eBART could theoretically head to Brentwood and beyond, but again, no funding yet. 
BART will someday reach Downtown San Jose and Santa Clara, but we can't say we have much hope for that anytime soon. 
So that, in a nutshell, is what has changed in eight years, plus what is yet to come. A lot has changed, as you could tell from scrolling through this story, but we can only wait and see what's store for us in the near and distant future for BART.